Corporate Social Responsibility of WASHHOUSE
WASHHOUSE also contributes to local communities as a "social infrastructure" that plays an active role in responding to disasters and emergencies.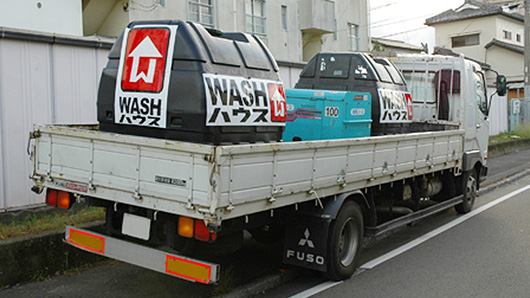 Installation of a large-capacity tank in the backyard of the store
This is the basic idea of WASHHOUSE - The company can permanently exist if we make stores of the type required in the areas where operate.
We have focused on customer-first store operation based on this idea while expanding our branch network mainly in western Japan.
A coin-operated laundry is a social infrastructure that provides a valuable function at the occurrence of a disaster such as an earthquake. Disasters resulting in the suspension of water supply are said to occur two or three times a year in Japan.
Every WASHHOUSE store has a large-capacity tank in the yard behind the store. When the municipal water supply was suspended for a full month in Miyazaki City in 2005 due to typhoon and flooding, WASHHOUSE prepared a water wagon to cope with unforeseeable circumstances in the community.
After the Kumamoto earthquake of 2016, we made all of our machines available for a flat fee of 100 yen rather than a switch. Local residents, many with small children, were pleased to use them.
Soon we plan to develop a coin-operated laundry vehicle to provide opportunities to do laundry in disaster-stricken areas.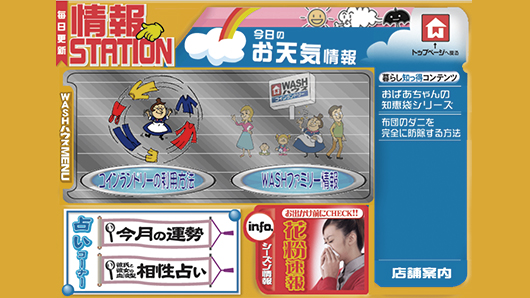 Sharing Information through Next-Generation Media (Touch Panels)
We also want to contribute to regions by promoting access to information via touch panels. WASHHOUSE stores are fully equipped with information stations controlled by touch panel. Customers can browse information on special sales, real estate offerings, used cars, and various other commercial activities in their communities while waiting for their washers and dryers to finish.
Locals in any area rely on various types of information unique to their community.
The added value of a WASHHOUSE store can be enhanced by creating a people stream: after customers finish their laundry, they continue their day by visiting a grocery store, automobile dealer, or real estate agent to take advantage of offerings and deals they have learned during the 30-minute machine cycles. By providing a comprehensive range of information required in their communities, our coin-operated laundry stores will become venues for information exchange or constructive gossip sessions among local residents as nodes in the regional network. We can think of them as a "new medium" combining "local core information" with "real life."
WASHHOUSE is confident that this approach can generate new business opportunities on several levels.