WASHHOUSE Business Model
The coin-operated laundry business that WASHHOUSE runs is
1. not a way to use idle land
To succeed, a coin-operated laundry business must open stores in areas where high customer volume can be attracted. Sales growth can be difficult to achieve from a location recklessly chosen to in order to use idle land. WASHHOUSE thoroughly analyzes data using accumulated know-how and insists on opening stores in places where sales will increase.
2. not a secondary business
The knowledge and tasks necessary to maintain "trusted, safe, and clean" coin-operated laundry operation are diverse. Operators must respond to daily inquiries, inspect their equipment, and clean their premises daily. If high-quality service is to be a priority, a coin-operated laundry cannot be run as a secondary business in the operator's spare time. On top of that, professional know-how is essential when creating campaigns and advertisements to increase sales.
WASHHOUSE will open stores in places where sales will increase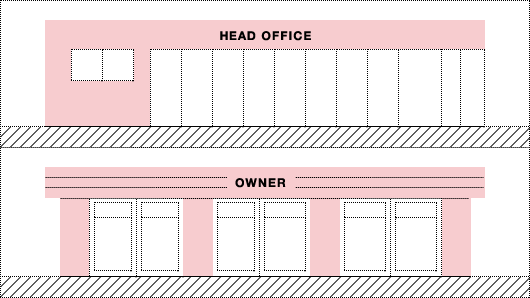 Franchise
Franchise

A completely new mechanism that allows mutual prosperity between the Head Office and owner without conflict

In a conventional franchise business, the franchisee pays a franchise fee and royalty in exchange for permission to use the franchisor's brand name. The franchisee receives support from the franchisor in the form of know-how and products and bears the responsibility for store management, recruits, and the like.

Operation management of stores is a considerable burden for franchisees. If sales stay flat, the franchisee blames the franchisor for "its bad system" and the franchisor blames the franchisee for "poorly educating its personnel in the franchise stores." This can lead to pervasive complaints, and even lawsuits.
WASHHOUSE introduced an "all-stores bulk management operation method" to respond to this issue. Under this system, the head office provides all of the services necessary for store operation and management to ensure that franchisees are shouldered with practically zero burden regarding store operation. The most crucial of these services include:
24/7 call center
Prompt support using web cameras and remote control
Daily inspections
Cleaning
Restock detergents
Maintenance patrol
Advertisement activities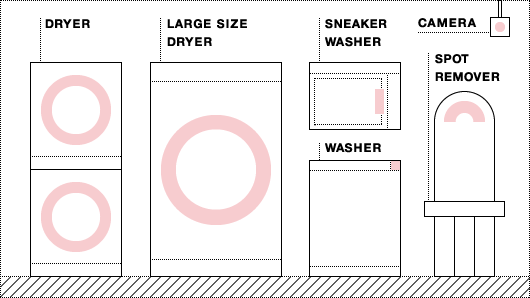 IoT
IoT

Resolve bottlenecking in multi-store development using our original machinery and systems

Here is some of the machinery WASHHOUSE offers to respond to customer needs.
Washers with maximum load capacities of 22kg for washing futons; dryers with maximum load capacities of 25kg (standard stores)
A sneaker cleaning system for washing sport shoes and school sneakers
A spot remover (stain removal) that can be used for free
All stores are also equipped with web cameras for 24/7 monitoring, as well as IoT laundry machines that can be remotely controlled from the head office. Though officially unattended, our stores are provided with the same real-time support available in attended stores. We have built a system that customers feel safe to use and provide the same quality and service in all of our stores. And by adopting this IoT-based management style, we have resolved human resource shortages when opening stores and increased the speed of multi-store development.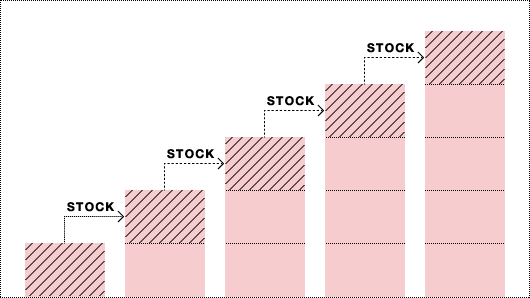 Stock business
Stock business

Stable earnings structure by the yearly accumulation method

WASHHOUSE's growth derives from its operation as a stock business where the sales and profits of existing stores are constantly accumulated as a foundation.
Compared to a flow business, which requires sales to rack up from zero every month and year, a stock business brings in stable profits with relative ease. Better still, a trend of increasing sales and profit is easier to maintain. In order to fully utilize this strength, WASHHOUSE will continue to expand its business by strategically and proactively opening new stores.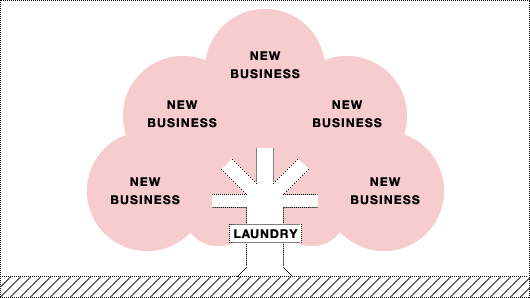 New business
New business

Expansion of a subsidiary business through the laundry business

When we first started our business 15 years ago, our objective was to come up with a method to establish a "large family business type" profit structure. Japanese family business groups own a great many enterprises within wide-ranging industrial fields. They employ a system that allows them to complete their projects entirely in-house, within their groups. Likewise, WASHHOUSE keeps the "start" and "finish" of a business within the WASHHOUSE group. And by creating subsidiary business through washing and drying, our core business, we can diversify our profit sources and stabilize our business.

We hope to achieve a large family business style, the ideal business style we have aimed for since our very beginnings, by earning profits in various peripheral fields centered around the coin-operated laundry business as a core for profit creation.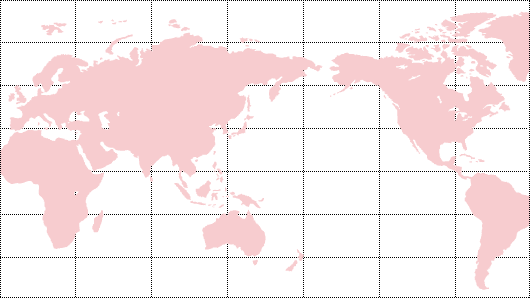 Overseas expansion
Overseas expansion

Potential of a globally suitable business model / construction of global standard

The activities of WASHHOUSE are not limited to Japan.
In 2009, as a step towards future global development, we acquired patents in China and Korea on a coin-operated laundry management system combining surveillance cameras and remote control.
We are now considering starting a business in the United States, a country with a developed coin-operated laundry market. There are currently 29,500 coin-operated laundry stores in the United States. About 7 million U.S. households are said to use coin-operated laundries every week.
The size of the U.S. market is several times larger than that of Japan. Even in the United States, stores are mainly operated by individuals. No chain stores or franchise stores have been established. Hence, the same problems long-faced in the Japanese market –dismal store atmospheres, lax security, slow response to troubles– are also the norm in the United States. By introducing a fine "Japanese quality" service to an American market facing the same issues, we believe that we can expand worldwide and officially develop a global business.
There is no country anywhere in the world that doesn't do laundry. Our services have the potential to expand from the Japanese market to a global market.